Trails at the Mark Arendz Provincial Ski Park
Entrance: Brookvale, 1800, Route 13
When the snow melts each spring, the Mark Arendz Ski Park transforms into a popular mountain biking hub. This biking mecca is home to 22 kms of single track trail and offers a variety of trail difficulty from 'easy' to 'extremely difficult'. These legendary trails are fast and worked-in with faithful usage. Primarily machine-built, a newer section is 10 kilometers and features a fast-rolling hard-pack freestyle loop called "Coastline" which is sure to keep your expectations (and your wheels) sky high. The park is also home to the Rigid Riders Mountain Bike Club.
Bonshaw Hills and Strathgartney Provincial
Park Entrances:
17530 Trans Canada Highway, Bonshaw
98 MacKinnon Lane, off Riverdale Road
17025 Trans Canada Highway, Strathgartney
The Bonshaw Hills Provincial Park has 18 kms of 'more difficult' trails. At Strathgartney, you'll find some of the newest and oldest trails in the province. A 2 km trial is connected to Bonshaw Provincial Park with some very challenging terrain. Download Trail Map
Cardigan River Trail
Entrance: Behind the ball diamond at 4364 Chapel Road/Route 321.
This new year-round hiking and biking trail is a 12.4 km single-track with 3 km of double-track that is mainly flat. In winter, the single-track trails are used for fat biking and snowshoeing. Cross-country skiing can be done on the double-track area. The trail is mainly machine built with lots of flow and small berms; easy for hikers and challenging enough for mountain bikers. Enjoy lovely views of the Cardigan River and many mature white pines and red oak trees. View Trail Map
Gairloch Trail
Entrance: Juncture of Gairloch Road (Rte 204) and Confederation Trail. Parking roadside.
This looped 7 km trail is located next to the Confederation Trail within the Points East Coastal Drive region. It is ranked as 'more difficult' running through hilly terrain with several bridged stream crossings. The steep ravine sides have switchbacks.
O'Leary Mountain Bike Trail
Entrances: 2 kilometers east of O'Leary off the Confederation Trail Here, you will discover three trails - Monkey Tango, Hurricane Wave and Bench Ridge - varying from easy to very difficult. It is 2 kilometers in length.
Rotary Friendship Park, Summerside
Entrances: 599 MacEwen Rd, between Prince County Hospital and Walker Ave Colin Avenue and the Confederation Trail, east of Gillespie Dr A network of 6.5 kms of tree-lined gravel and clay trails on 64 acres. All trails are suitable for cycling with two pit runs for mountain bikers.
Robinsons Island Trail System - closed for construction in 2023
Entrance: 40 Robinson Island Rd, near end of Gulf Shore Way East at Brackley Beach (National Park entrance fee will apply depending on season)
A 5 km multi-use trail that is great for beginner to intermediate cyclists. Designed as a 'stacked loop', this family-friendly trail offers a shorter and longer option with 11 technical trail challenges located in spurs off the main trail. Test your skills on the ramps and teeter-totters or just skip these branches and stick to the main trail for a beautiful scenic cycling adventure.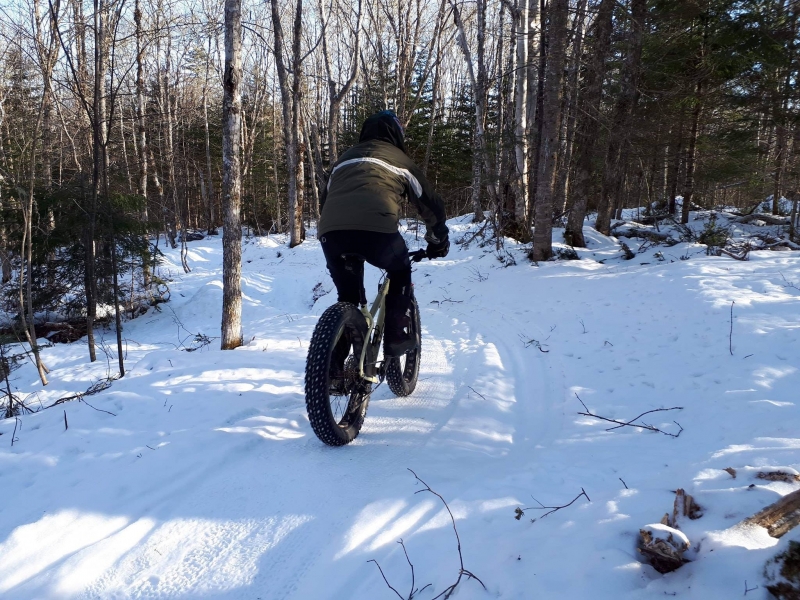 Winter Fat biking
Winter fat biking has gained significant traction in Prince Edward Island.
The Mark Arendz Ski Park at Brookvale offers nearly 10km of groomed single-track fat biking trails with rentals available. You'll also find groomed trails in Summerside at Rotary Friendship Park and Heather Moyse Park along with a "Try Fat Biking" program and free bike rentals.
Other winter fat biking destinations include Brookvale Demonstration Woodlot, Glasgow Hills Golf Course Trail and Cardigan River Trail.