Beginner's Guide to Oysters
Published July 22, 2021 | Prince Edward Island Aquaculture Alliance
Categories: Culinary
Prince Edward Island is famous for its world-class shellfish. If you haven't experienced it for yourself, now is the time. Malpaques are PEI's most famous local oyster variety and are found on menus all over the world, from New York to Beijing. On the Island, bivalves are known by the waters where they grow.
Colville Bay
These oysters with aqua-green shells are farmed in the waters of Colville Bay at the mouth of the Souris River. Grown at the bottom of the bay, the sand is soft and silty which helps to create the perfect environment. The distinct salty-sweet flavour will leave you craving more.
Raspberry Point and Pickle Point
On the north shore of PEI, Raspberry Points are grown in off-bottom cages. Keeping them off the bottom of the bay provides a lighter flavour and nicely manicured shells. Their characteristics are a salty flavour, a clean finish and a bit of crunch.
Bedeque Bay and Summerside
Cultivated in Salutation Cove, this spot receives two strong tidal surges each day, giving oysters in this area extra nutrients. This environment helps them grow twice as fast as others on the Island. They are also stronger flavoured than the typically light flavour of Maritime oysters.
Malpeques
These oysters are grown wild in the glacial depths of Malpeque Bay and are harvested by hand-tonging out of small skiffs. At a Paris exhibition in 1900, the Malpeque Oyster was judged as the world's tastiest oysters with a meaty bite as well as a quick, clean and sweet finish.
Valley Pearl
An example of a premium Malpeque oyster, Valley Pearl Oysters are found in Tyne Valley and are delicious. The business is owned by two good friends who want to share their love of oysters with the world.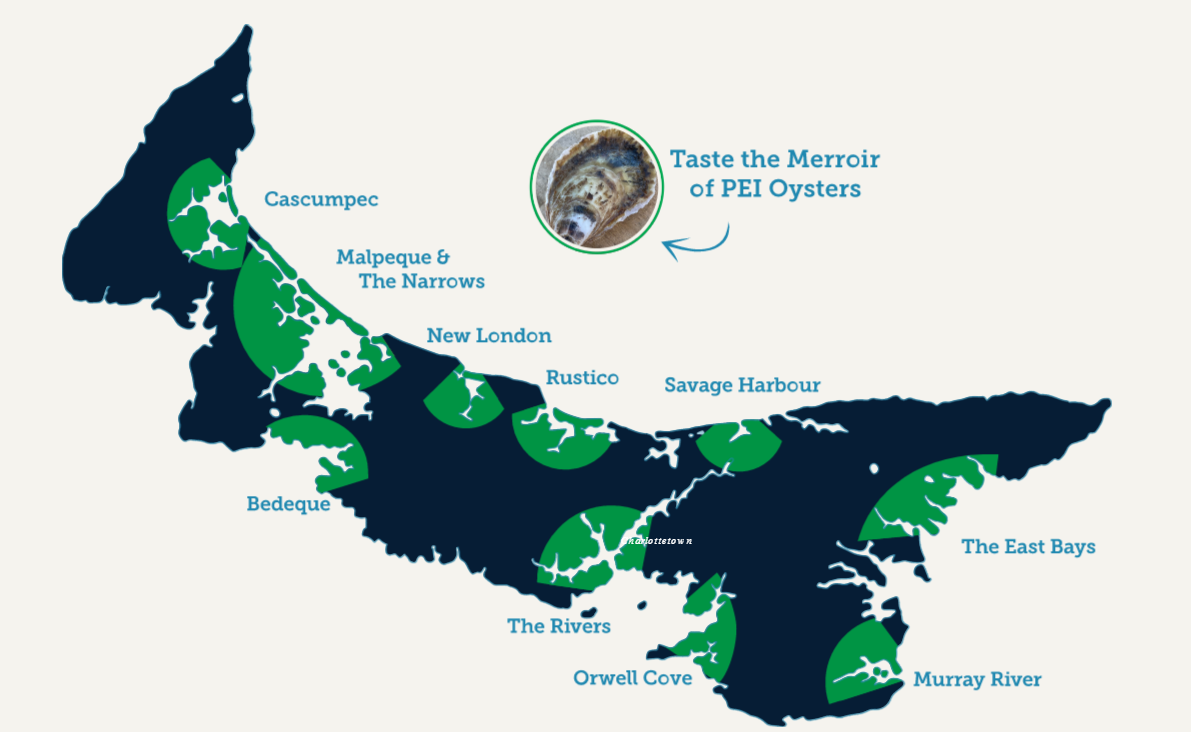 So let's get started!
Ready to brave your favourite delicacy? Have a few questions first? Here are a few points to help you out.
Do you chew an oyster or swallow it whole? The choice is yours - there's no wrong way. Try both.
What do I put on an oyster? Oysters are perfectly delicious all on their own and don't need a thing. However, some people love horseradish and a pinch of lemon to add a kick. If you're really adventurous, try a chutney or hot sauce from a local Island producer.
How many are too many? There's no such thing. Keep on shucking!
The Oyster Oath
We invite you to partake in the tradition of saluting the sea with the salty kiss of a freshly shucked, PEI Oyster. State your pledge by reading the following oath aloud in the presence of fellow honest oyster loving folks:
"Cradled on the waves, I swear to honour on this borrowed day, the Prince Edward Island oyster by the grace of its salty kiss."
Then tip your head back and savour the tang of your freshly shucked PEI Oyster. Once you have embraced the grace of this delicious treasure from the Island bays, you may then... and only then... name yourself an honest oyster-loving folk too.
Published June 29, 2023
Discover the South Side of Points East Coastal Drive
The southern side of Points East Coastal Drive is distinctly beautiful and peaceful in summer with crops blooming in the fields, countless white or red sand beaches, perfect pairings for dining and finely crafted take-home products galore. Discover the hidden gems of the area.
Published May 30, 2023
Farm Experiences of Prince Edward Island
Farming communities are considered by many to be the backbone of the Island's rural culture. There's no better way to appreciate Canada's Food Island than by meeting the farmers and producers who want to share their passion for food and animals. The options are many during a visit to Prince Edward Island.