St. Peters Loop & Greenwich (58 KM)
These two easy rides begin in St. Peters and can be completed in a day. If you're a beach lover, two days are better. You'll pass a picturesque working harbour, gorgeous beaches, and sections of the PEI National Park. The terrain on the St. Peters Loop is mostly level, except for a few rolling hills near the end of the ride. The road to Greenwich is gently rolling, but not difficult.
St. Peters Loop & Greenwich Day Trip Route (58 KM) Directions:
0.0 From St. Peters Visitor Information Center, follow Route 2. This route usually has a lot of traffic but has safe and paved shoulders. 
1.6 Soon you will reach a bluff overlooking the bay. 
11.5 Turn right onto Red Head Harbour Road. At the harbour, you can see Greenwich National Park.
13.1 Turn around and retrace your route back to Morell.
16.0 Turn right onto St. Peters Harbour Road.
17.7 Bear left, staying on St. Peters Harbour Road; Cairns Road angles off to the right.
18.5 Continue straight, passing a No Exit sign; take notice of a dirt road on the left called Lot 40 Road. After visiting St. Peters Lake Beach, a favourite in eastern PEI, come back to this point and turn right on the Lot 40 Road.
19.5 At the end of the pavement, you'll see signs posted as Private Development and Beach-Please Drive Slow, however, the road and beach is public with a private development just before the dunes.
20.7 The dirt road ends at the dunes. Follow the footpath to the beach. When you're ready to leave the beach, backtrack to Lot 40 Road.
22.9 Turn right on Lot 40 Road.
24.9 Turn right at a stop sign onto St. Peters Road.
25.9 Turn right onto Route 350 following the sign to Crowbush Cove.
27.4 Turn right to stay on Route 350; Lakeside Road is to the left.
28.9 Turn right on Lakeside Beach Road. There is a No Exit sign and the water is ahead.
30.1 The road ends at a boardwalk over the dunes to Lakeside Beach. After another swim, backtrack 1.2 kilometres (kms) to Route 350.
31.3 Turn right at a T onto Route 350, following the sign to French Village.
31.6 Pass the entrance to the Rodd Crowbush Resort and ride for another 1/2 km to the entrance to the Links at Crowbush Cove.
32.4 Continue straight as road turns to clay (the paved McAdam Road goes left). In about two kms, ride along the shore of Savage Harbour.
35.8 Turn left onto the paved Route 352 - McEwan Creek Road.
36.5 Continue straight, crossing Route 2 with caution. If you are in a hurry, you could turn left here. It is safe to ride all the way back to St. Peters on Route 2 as there is a paved shoulder most of the way.
37.4 Watch for the Cherry Hill sign; turn in about 400 metres.
47.0 Follow Route 2 to St. Peters passing Red Head Road. Route 2 has some long climbs but not too steep with downhills too. Enjoy the sweeping views over the harbor as you approach St. Peters.
58.5 At this point, you'll return to the Visitor Information Centre, where the ride began.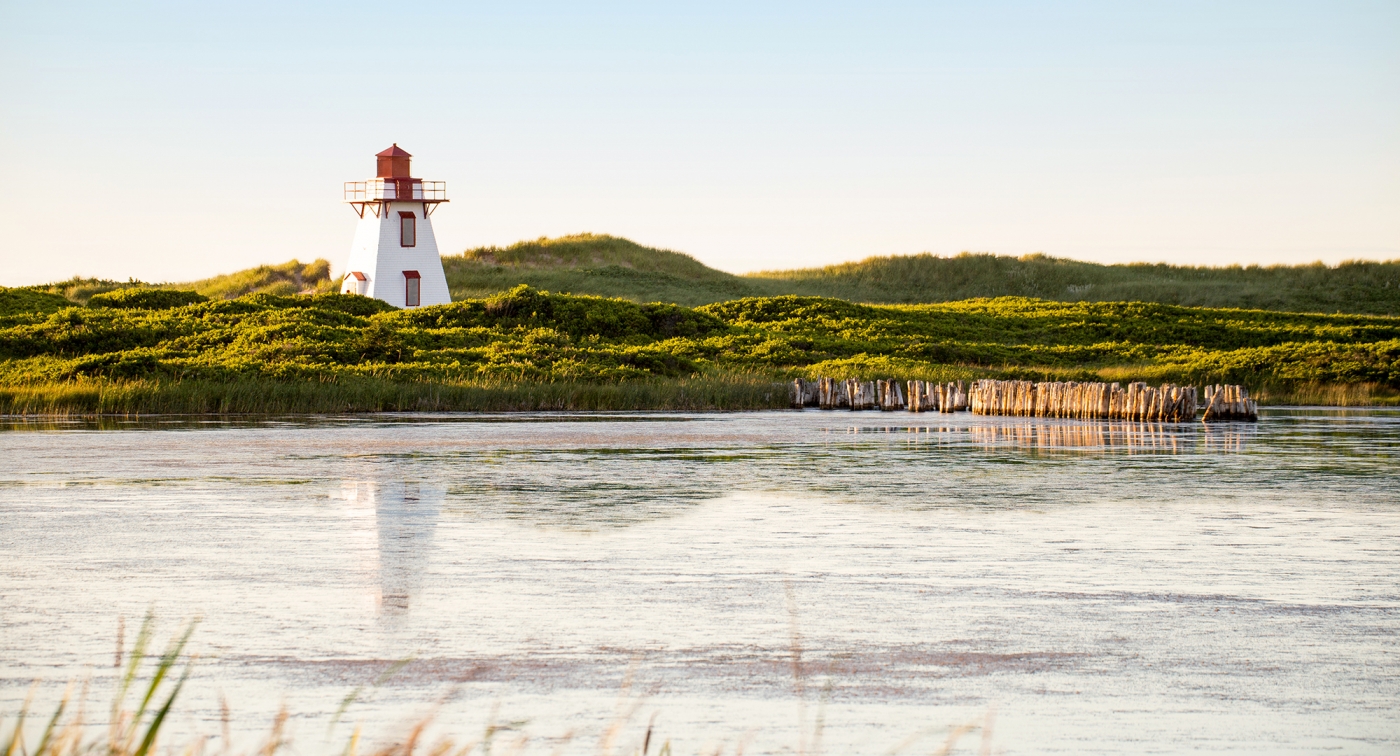 Ride to the Greenwich Section of PEI National Park (20 KM)
0.0 Turn right as you leave the Visitor Information Centre. You will cross a bridge over the head of St. Peter's Bay.
0.3 Bear left, following signs for Route 16 & Route 313. Route 2 continues to the right.
0.4 Bear right after a park with a gazebo on the waterfront. Immediately climb the only real hill of the ride.
0.7 Turn left onto Route 313, following the sign to Greenwich. In a few hundred metres, St. Peters Church is on the right. This route is a smooth, gently rolling road with views of St. Peters Bay most of the way to the National Park.
8.9 Enter the National Park to find a modern interpretive center just ahead. The beach is 1.2 KMs down a lane to the right. After your visit, backtrack to St. Peters.
Please note that many roads do not have paved shoulders and caution should be used in these areas. Helmets are mandatory while cycling on Prince Edward Island.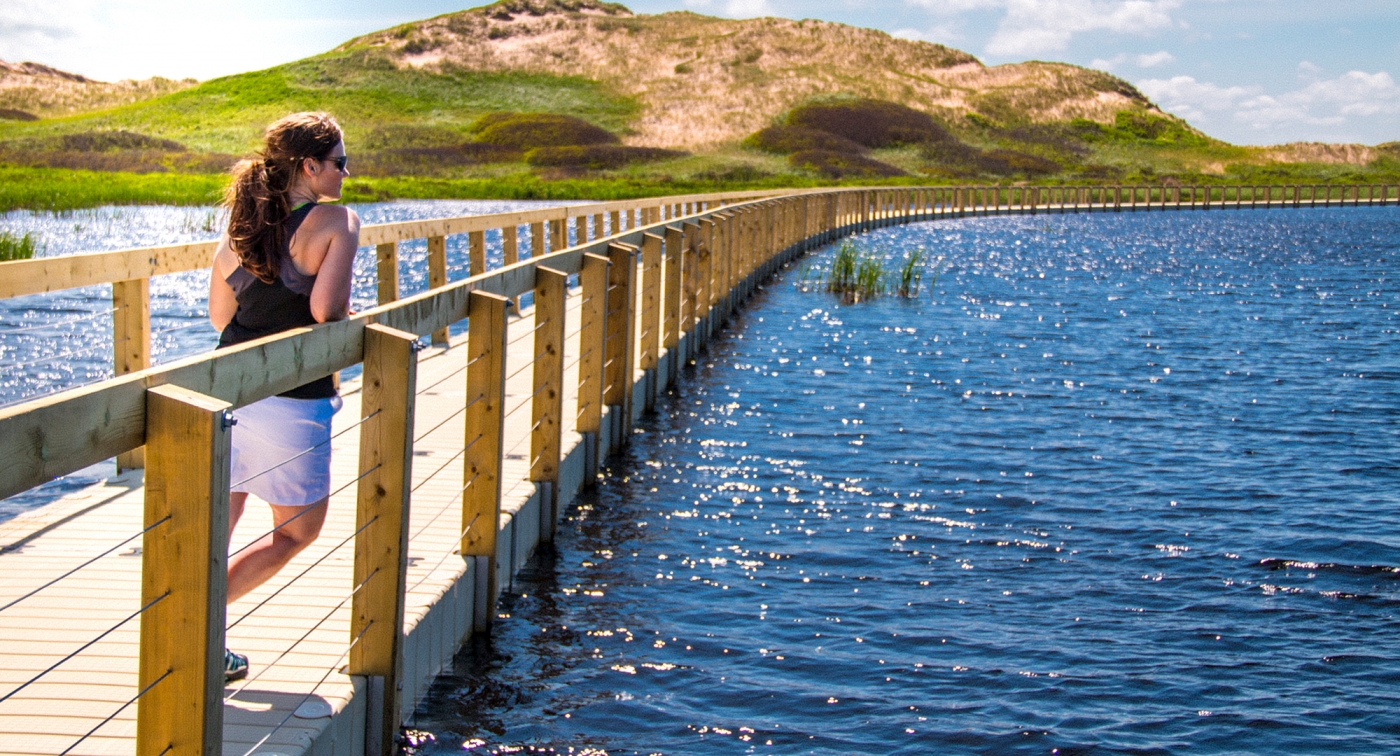 More Itineraries You Might Enjoy