I want to do a week of hiking in early September. I want a long distance walk but no more than 25 km a day.
Answer by: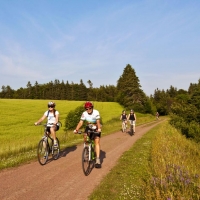 Hello Joan,
September is the ideal time to hike on Prince Edward Island; cooler days and fewer mosquitoes.
The new Island Walk is a 700 km route that includes parts of the Confederation Trail, other maintained trails, red dirt roads, quiet paved side roads and beach. Grades are no greater than 2%. There are a number of itineraries provided online designed for a 4 to 7 day hike. 
If you plan to arrive via the Wood Islands ferry from Nova Scotia, you may be interested in the Tuna, Oysters, Harbours & Brews route from Murray River to Souris.
Most people who are doing the Island Walk will connect with a partner accommodation operator who can provide transportation to and from the trail each day. That way, it's possible to stay in five or six places for the whole route. That also means you won't have to carry a heavy bag every day. The Island Walk team expects to have detailed information about these services on the website in the coming weeks.
I would also recommend joining the private Island Walk Facebook group that is comprised of many people who have done the walk before and others who are planning to. There is lots of great information there.
Alternatively, you could hike the Confederation Trail from Wood Islands to Charlottetown. 
Stay in touch by signing up for the Tourism PEI newsletter that includes details on events all year long.
All the best in your planning. We hope to see you in September!
Ruth
 
Daniel Davies
Raleigh, North Carolina
Asked: Planning a bicycle tour in August for 10 days with five days in west & east and riding 50-65 km per day . Pls recommend town/villages as base locations, weekly rentals and circular itineraries.
Bob McDoogle
Toronto, Ontario
Asked: How do I keep my 3 and 6 year olds happy and entertained in PEI?
Theresa Nickel
Cold Lake, Alberta
Asked: We would like to go on a shorter bike ride on confederation trail but have no idea where to start or where to rent bikes?