How do I keep my 3 and 6 year olds happy and entertained in PEI?
Answer by: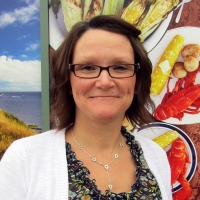 Hi Bob,
The Eckhart Scavenger Hunt is a permanent interactive attraction for families and people of all ages. Nine little bronze mice are installed in their 'hiding places' around the city. Guides available at the Charlottetown Visitor Information Centre and online.
Doing a land and sea tour in Charlottetown is always a highlight. The Harbour Hippo offers just that.
Off the Wallz trampoline parks in Stratford and Summerside are perfect for burning off energy.
That Fun Place in Charlottetown is a great rainy day activity.
Visiting Orwell Corner Historic Village would be fun. It's where you can wander the grounds, visit and help out with the farm animals or take part in one of their different experiences.
Many of the south shore beaches are perfect for young children. The beaches are generally quieter, the waves are much calmer and the water is a bit warmer. Children love to discover rocks and shells at low tide and splash around in the warm water between the sand bars. A few of my favourite south shore beaches are Chelton Beach Provincial Park, Canoe Cove and Victoria by the Sea.
You could also visit places such as the Toy Factory in New Glasgow, Island Hill Farm in Hampshire and The Great Canadian Soap Co in Brackley Beach.
There are some great trails that your family can explore as well. A few of my favourites are Bonshaw Hills Provincial Park, the trails at Cardigan River and Mill River.
I hope these ideas are helpful to you.
Kelly Richard
Chantal Guilbert
Contrecoeur , Quebec
Asked: Where can you eat something like a fisherman's or seafood platter, different kinds of seafood in one plate?
Carole Cyr
Gatineau , Quebec
Asked: Who serves the best seafood in Summerside?
Katherina Wiebe
Prespatou, Armed Forces (Canada, Europe, Africa, or Middle East)
Asked: I want to travel PEI from tip to tip. Where is the best place to start?