Hi. If biking trails/roads and staying in B&B or similar accommodation what's the best time to visit to avoid crowds? Thanks
Answer by: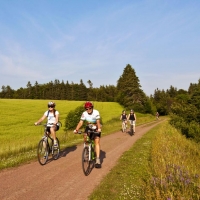 Hello Beverly,
It sounds like you may be interested in the Island Walk route. The best times for a journey are from mid-May to early June or September to late October. May is quiet but it can be cold. June is better - expect a few hot days. September is ideal. October has an added advantage - fall colours!
The Island Walk website provides further detail. If you are planning to visit this year, I strongly recommend planning ahead and starting to research accommodation options as the Island Walk is gaining a lot of attention. We expect to attract a lot of hikers and cyclists later in 2022.
I would also recommend joining the private Island Walk Facebook group that is comprised of many people who have done the walk before and others who are planning to. There is lots of great information there.
Have a great adventure!
Ruth
Daniel Davies
Raleigh, North Carolina
Asked: Planning a bicycle tour in August for 10 days with five days in west & east and riding 50-65 km per day . Pls recommend town/villages as base locations, weekly rentals and circular itineraries.
Bob McDoogle
Toronto, Ontario
Asked: How do I keep my 3 and 6 year olds happy and entertained in PEI?
Theresa Nickel
Cold Lake, Alberta
Asked: We would like to go on a shorter bike ride on confederation trail but have no idea where to start or where to rent bikes?