I am coming to New Brunswick in October to visit with family and staying near Shediac. We want to come play a round of golf in PEI and do a costal drive! Based on distance, what would you recommend?
Good afternoon from Prince Edward Island,
With over 400 fairways, Prince Edward Island is a golfer's paradise. 
Once you cross the Confederation Bridge to Borden-Carleton, you have several options for championships golf courses within 40 minutes along our Central Coastal Drive. Here are three recommendations:
Countryview Golf Club past Cornwall in Fairview
Andersons Creek in Stanley Bridge
Glasgow Hills in New Glasgow
Please call in advance to check on availability of tee times.
The Central Coastal Drive is made up of Red Sands Shore in the south and Green Gables Shore to the north. You'll enjoy some of PEI's most scenic landscapes, red cliffs, white-sand beaches and farmland views - not to mention the beautiful fall foliage. 
And, just a reminder that non-residents must apply, in advance, for a PEI Pass in order to enter Prince Edward Island. 
Have a great game and a great visit.
Regards,
Verna Lynne Weeks
John Edwards
Hamilton, Ontario
Asked: We are staying in Victoria and would like to take in some music at a local pub/music venue. Also looking for eateries that feature local cuisine. BTW, one of our party members does not like sea food. Any thoughts?
Kathy Schacter
Newmarket, ON
Asked: Interested in an excursion - deep sea fishing in Cavendish. Any suggestions who we should contact. Also where can we rent bicycles?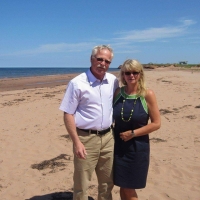 Lynn Langdon
Ancaster, ON
Asked: Hi, I am considering a 6 day trip to PEI the last week of October. I was wondering what the weather is like at that time of year? Would we have missed the fall colours? We want to tour the Island. Any suggestions would be appreciated.