Are there e bike and or regular bike rentals at key points along the Confederation Trail? Shelley Dallas-Smith
Answer by: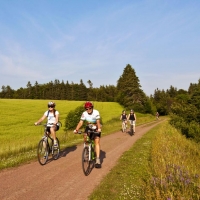 Good afternoon from Prince Edward Island,
Thank you for your inquiry to Ask an Islander. We are excited to hear that you plan to cycle the Confederation Trail. Rest assured that you will find rentals for bikes and e-bikes from operators near the trail. I would suggest contacting in advance.
Confederation Trail Bike Rentals located in St. Peters have two e-bikes and many regular ones;
Nellie's Landing Marina in Murray Harbour has six e-bikes only; no regular bikes; and 
Rising Tide EV at 125 Queen Street in Charlottetown is just a 5-minute ride to Joe Ghiz Memorial Park where the trail starts.Call 902-626-9292. 
Regular Bike Rentals
Enjoy your ride along the Confederation Trail. Be sure to stop along the way for some architectural, historical, natural and geographical facts about Prince Edward Island interpreted in the story and photos on bilingual panels from one end to the other.
Stay in touch by signing up for the Tourism PEI newsletter which includes details on upcoming festivals and events and recipes too.
Have a fabulous adventure!
Ruth DeLong
Daniel Davies
Raleigh, North Carolina
Asked: Planning a bicycle tour in August for 10 days with five days in west & east and riding 50-65 km per day . Pls recommend town/villages as base locations, weekly rentals and circular itineraries.
Bob McDoogle
Toronto, Ontario
Asked: How do I keep my 3 and 6 year olds happy and entertained in PEI?
Theresa Nickel
Cold Lake, Alberta
Asked: We would like to go on a shorter bike ride on confederation trail but have no idea where to start or where to rent bikes?