What's are winters like there with regards to amount and temperature?
Answer by: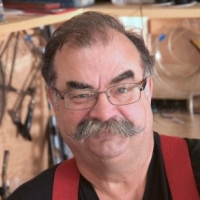 Hello Rosemary,
This is a question I am asked about every day. It is also one that I believe is greatly misquoted or even misunderstood.
Having lived in three other provinces, and having travelled a large part of the world, I would say our winters are a very pleasant surprise for visitors.
Aside from the exceptional or freak winter that effects everyone, our winters start in about January - with little to no snow in December... green is the norm for grass in early December.
This past winter, I used my snow blower six times. Our normal temps are in the minus but nothing in the deep cold experienced in other areas. We have sunny days in the winter and I work most winters outside on my deck. The evenings are crisp and great for walking.
Different parts of Prince Edward Island will have some differences, but I think generally we have the best winter in the east.
Come on down!
Peter
Daniel Davies
Raleigh, North Carolina
Asked: Planning a bicycle tour in August for 10 days with five days in west & east and riding 50-65 km per day . Pls recommend town/villages as base locations, weekly rentals and circular itineraries.
Bob McDoogle
Toronto, Ontario
Asked: How do I keep my 3 and 6 year olds happy and entertained in PEI?
Theresa Nickel
Cold Lake, Alberta
Asked: We would like to go on a shorter bike ride on confederation trail but have no idea where to start or where to rent bikes?