Life at the Beach
Published May 23, 2021 | Carol Horne
Categories: Outdoor Activities
Carol Horne is a long-time Island beach goer. Most likely to be found blissed out on a beach somewhere in eastern PEI.
Prince Edward Island is blessed with miles of sandy shoreline, fringing the garden province with colourful stretches of white, champagne, pink and red beaches. Island beaches are among the best in the country with the warmest ocean waters north of Virginia. We have beaches where you can spend the day communing with the shorebirds and listening to the waves; we have beaches where the whole family can play in the surf with their friends. We have beaches where you can follow an interpreter and learn about the geology, flora and fauna of the Island shore. To help you plan your Island beach vacation, here is a little primer on "Island beach identification." What kind of beach goer are you?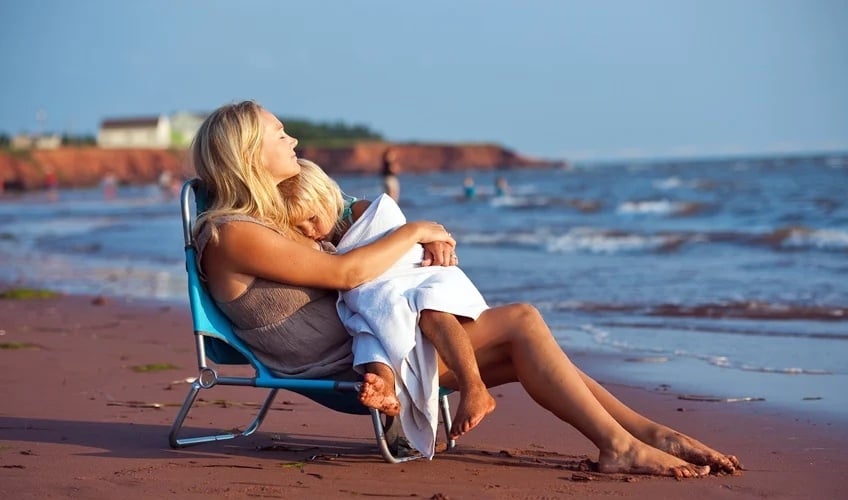 Blissed Out at the Beach
This beach goer may be seen most often on Prince Edward Island's white sand beaches, of which there are miles. Often in a prone, semi-conscious state, the blissed-out beach goer hears only the surf and the cries of the seagulls. Usually accompanied by sunscreen and paperback novel. Favourite habitats: Panmure Island Provincial Park, Grand Tracadie, PEI National Park, Lakeside Beach and Red Point.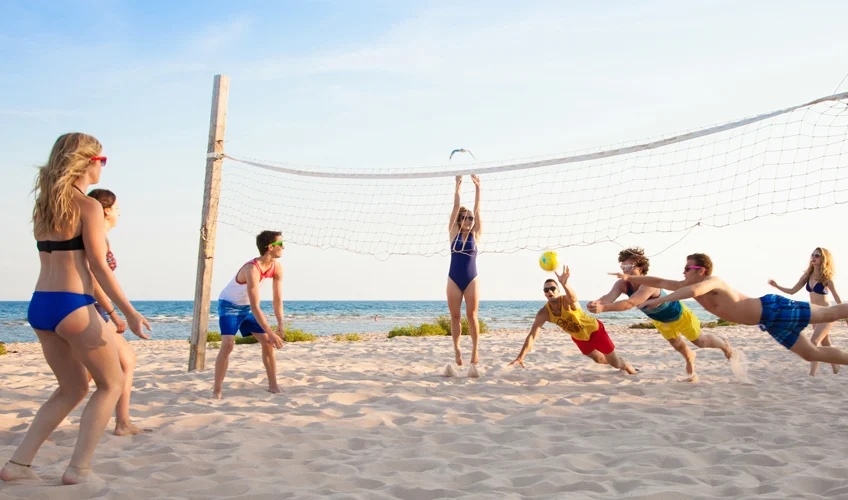 Gregarious Beach Goer
This gregarious species enjoys social contact with other members of his flock and will gravitate to locations where friends and families may be found. Other possible landmarks for this group: ice cream stand, volleyball net and kites. Preferred beach locations: Northumberland, Panmure Island and Argyle Shore provincial parks.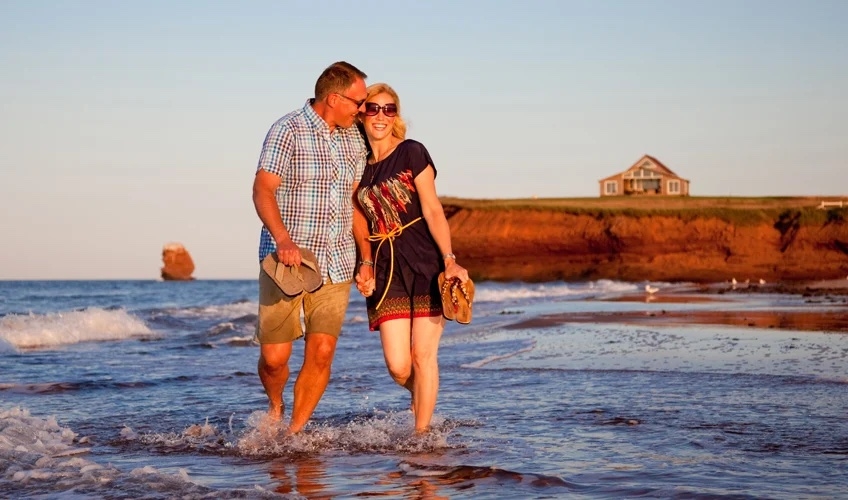 The Beach Lover
We have reason to believe that many of those people who successfully found companions in the personal ads take their "long walks on the beach" in Prince Edward Island. For this category, weather is not a factor and pairs of beach lovers may be spotted hand-in-hand in all kinds of weather conditions. Preferred shorelines often located near cottages and inns equipped with cozy fireplaces: the Greenwich Dunes Trail in PEI National Park, Cabot Beach, Campbell's Cove and Cedar Dunes.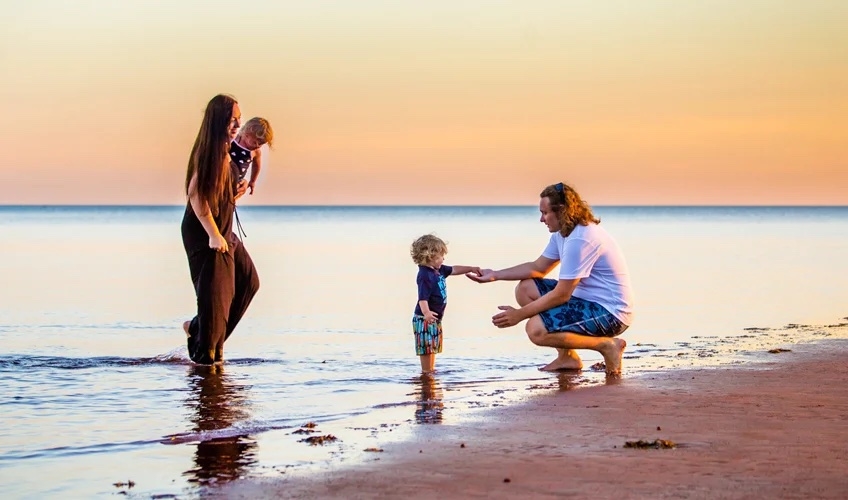 The Multi-generational Beach Goer
This clan loves the red and pink sands of the Island's south shore where all shapes and sizes are found wading in the quiet, shallow water that is warm as bath water. Many members of this group are treasure seekers, finding snails, starfish, minnows and shells of all kinds. Best family beaches: Tea Hill, Chelton Beach, PEI National Park, Northumberland, Red Point and Argyle Shore.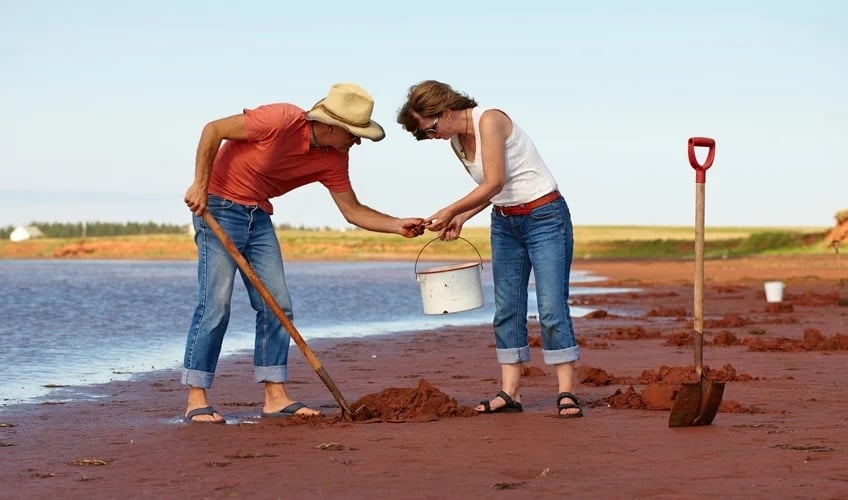 The Clam Digger
Equipped with a bucket and shovel, the clam digger is looking for a delicious snack of steamed soft-shell bar clams or quahaugs. This group chases squirting holes all over the low-tide shore, capturing the delicious Island shellfish.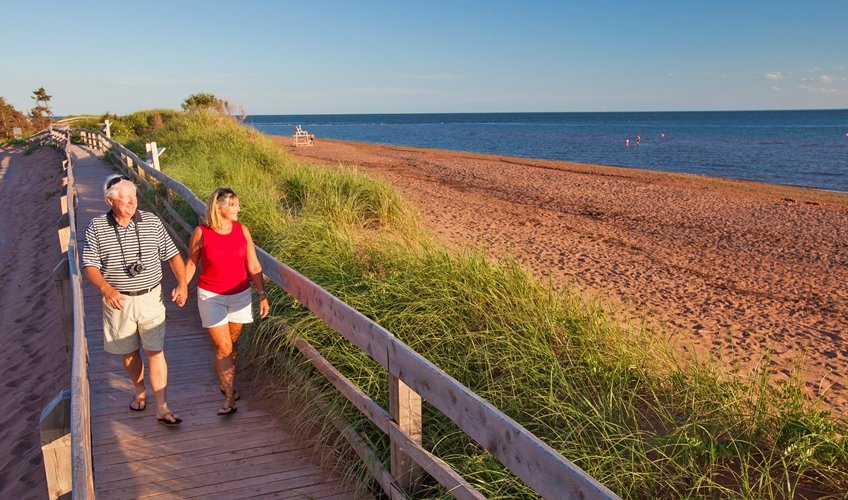 The Beach Hugger
This beach goer is hungry for knowledge and wants to absorb all the fascinating facts of PEI's beach ecology, geology and archaeology. May be identified by notebook, camera and guidebooks. Best learning beaches: Any of the beach interpretive programs within PEI National Park, Jacques Cartier, Cedar Dunes and Red Point.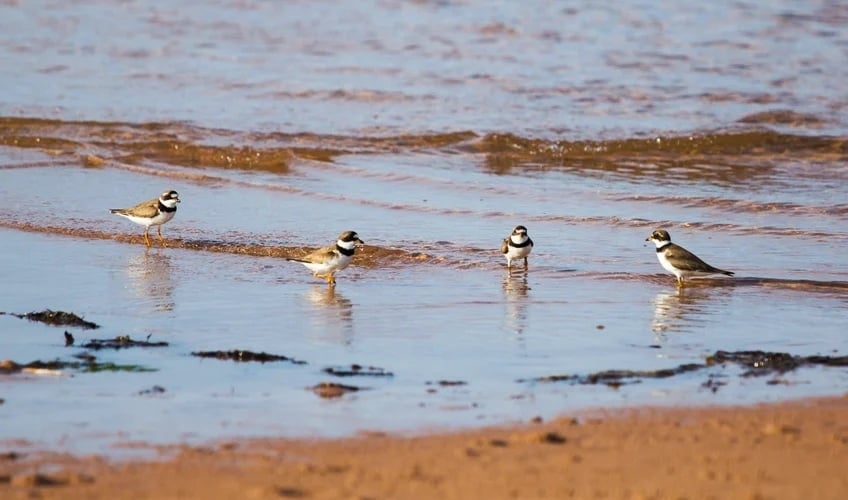 The Beach Bird Watcher
May be hard to spot, as members of this group are very still, attempting to blend into the landscape. Equipped with scope, binoculars, field guide and camera. Birding beaches: Panmure Island, Cabot Beach and PEI National Park.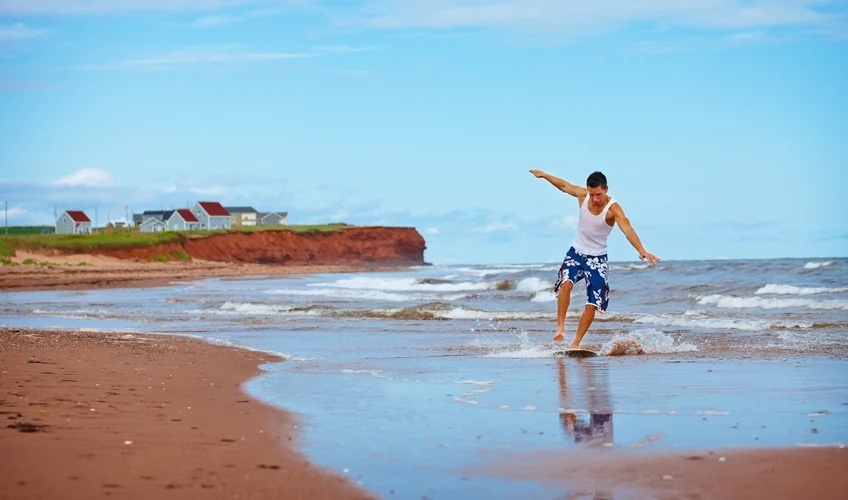 Adventurer at Sea
This shoreline species is more often spotted in or on the water. May be carrying a paddle, sailing on a board or found on the deck of an excursion boat. Sometimes equipped with a mask and snorkel. May be attired in colourful or rubberized clothing. Best launching beaches: Souris Beach, Basin Head and Mill River.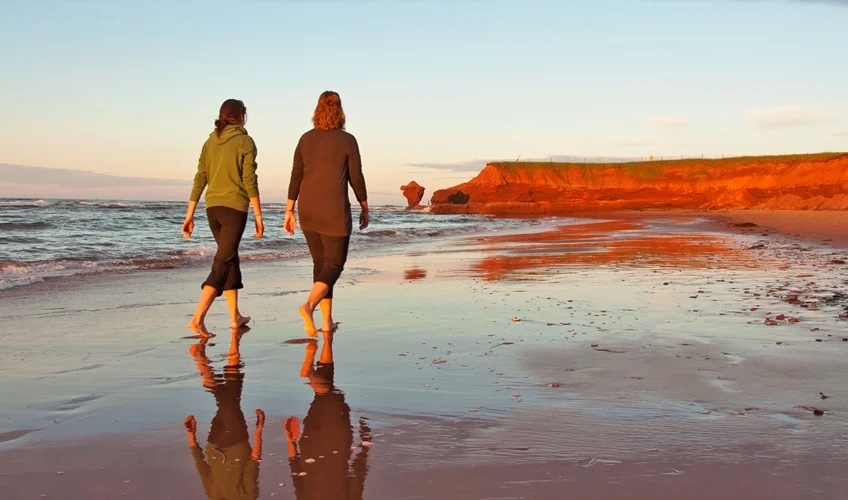 The Beach Walker
The only requirement of this beach type is miles of sand and thus they may be found on any PEI shoreline, especially at low tide. Beach walkers are comfortable in any type of clothing, but usually prefer bare feet. Many have fallen into a meditative state so may be observed staring off toward the horizon or into the hypnotic patterns of the waves. Beaches made for walking: Cabot Beach, Basin Head and PEI National Park.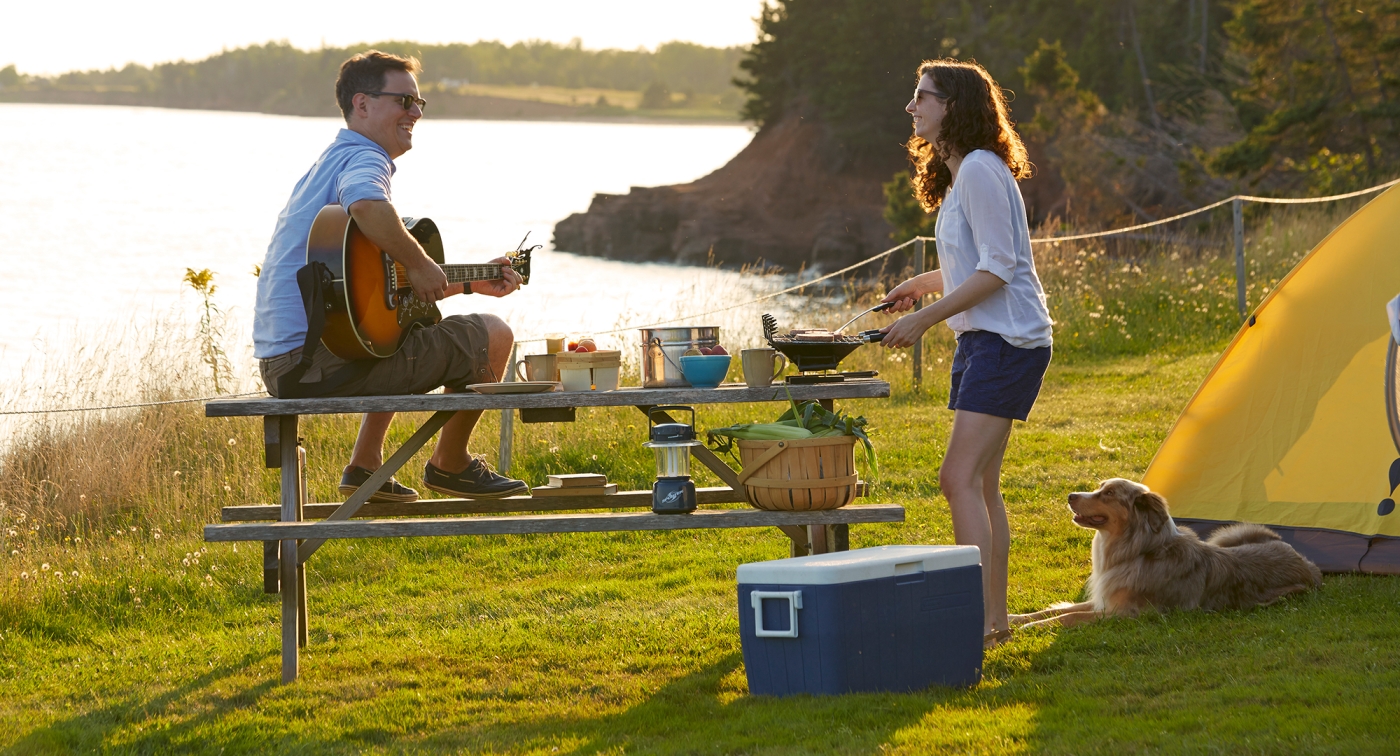 The Beach Camper
A species that likes to fall asleep lulled by the sound of the surf and wake to the cry of seabirds. The beach camper does not mind sand in hot dogs, lumpy sleeping bags or even the odd mosquito at dusk. The beach camper may be identified by a massive collection of gear; coolers and lawn chairs as well as toys and umbrellas are the usual accoutrements of every good and happy beach camper. Beaches with campgrounds: Red Point, Panmure Island, Cabot Beach, Jacques Cartier and Cedar Dunes provincial parks.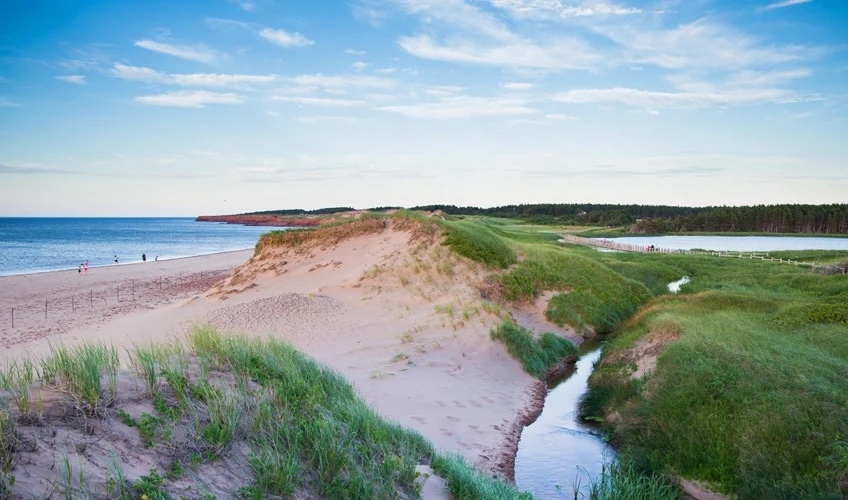 Help Us Protect our Dunes and Seaside Wildlife
Sand dunes are sensitive ecosystems and havens for wildlife. You help us to conserve dunes, beaches and wildlife by:
Keeping vehicles on roads and feet on designated pathways
Carrying out garbage
Respecting signs and zones for protection of wildlife such as the endangered Piping Plover
Avoiding visits to bird colonies, nests and roosts
Staying off the dunes, especially in PEI National Park. Your footsteps damage the marram grass, which is holding the dune together
Respecting signs prohibiting dogs on the beaches in PEI National Park between April 1 and October 15 each year.
Thank you for protecting our natural heritage. 
Published September 7, 2023
Top 10 Things to Do in Fall
Fall is a favourite time of year to visit Prince Edward Island for many travelers. The Island's landscape is painted with bright orange, yellow and red, the weather remains warm and producers and chefs are celebrating the bounty of the harvest.
Published August 3, 2023
10 Active Lifestyle Adventures on PEI
Fill your lungs with fresh Island air and get your heart pumping with these exciting active summer adventures, filled with fun for the whole family.

Published June 29, 2023
Discover the South Side of Points East Coastal Drive
The southern side of Points East Coastal Drive is distinctly beautiful and peaceful in summer with crops blooming in the fields, countless white or red sand beaches, perfect pairings for dining and finely crafted take-home products galore. Discover the hidden gems of the area.