Cabot Beach Provincial Park
Location: Green Gables Shore
Park Type: Campground
Supervised Beach: Yes
At Cabot Beach Provincial Park, you'll be in awe of the beautiful scenery overlooking the Malpeque Bay, walking trails through the woods and large green space for family activities.
Did you know that Cabot Beach was host to two Canadian Scout Jamborees? It was also the location for five sets for the tv series, Emily of New Moon, based on books written by L.M. Montgomery.
Amenities include campground, wifi, supervised beach, laundromat, playground, kitchen shelter and restrooms with showers. You'll also find the historic Fanning School on site. Pets permitted on leash.
Open June – September
Contact: 902-836-8945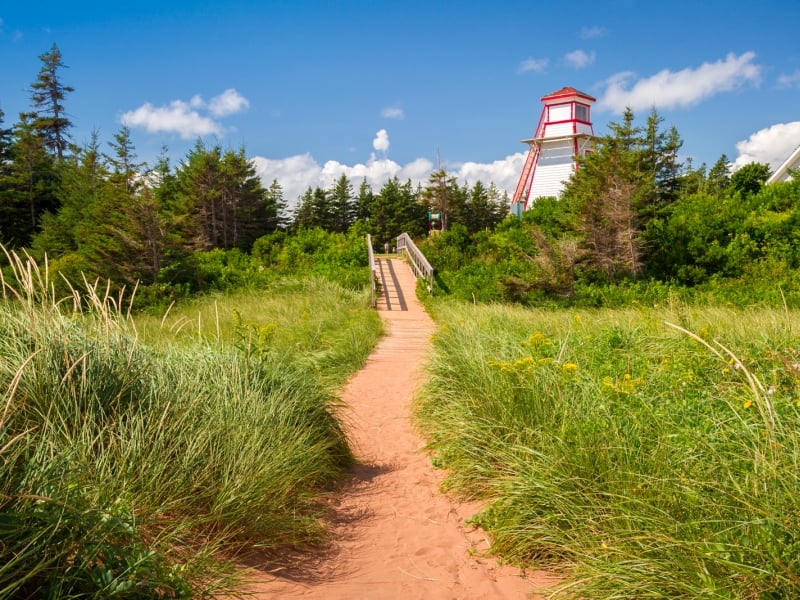 What to Do in Green Gables Shore
French River Golf Course
A great course with beautiful scenery for beginner to bogey players. Rentals available (4520 yds, 18...
New Glasgow Lobster Suppers
Serving lobster suppers since June 24, 1958. Specializing in fresh lobster from our pound on the...
Pit Stop Karting
Ride the go karts at Pit Stop Karting. Feel thrills when you round that last corner. The win is...
Lotus Garden Restaurant
Chinese restaurant located in the heart of Kensington.
Brackley Drive-In Theatre
16 km north of Charlottetown Airport. "Where families can afford to have fun." At dusk, enjoy two...
Serenity Salon
Soothing north shore spa with a view of the ocean!
Outside Expeditions
Beautiful location next to PEI National Park. Offering daily sea kayak, bicycle, S.U.P excursions.
The Lost Anchor
The best of PEI: great seafood, delicious cold beverages and famous Island hospitality!
Knit Pickers PEI
At Knit Pickers PEI, step away from technology and life's hectic pace into a world of hands-on...